Welcome to the
BerlinerPhiles
Web Site
Home for Fans and Friends of Janet Berliner
This site is dedicated to the life and works of Janet Berliner, award-winning author, editor of fine anthologies, and much more. Dig in and find out all about her. If you want more information, just ask. You can also sign-up to receive occasional announcements about forthcoming projects and opportunities to meet Janet at signings and events.
Highlights:
Our friends at the International Thriller Writers are trying out something new, TalkBack audio interviews posted as part of The Big Thrill podcasts. Janet wants to do one, but she wants your help. What can you do? Just e-mail me your questions for Janet and I'll compile the best and most original ones into a quick interview, which we'll record and the great folks at ITW will make available. To learn more about The Big Thrill and TalkBack, go to the ITW web site.
Also, don't forget that Janet posts on the Storytellers Unplugged blog on the 26th of every month. You never know what exciting topic she or the other 29 terrific writers and publishing professionals will be covering. On that note, we recommend you check out Thomas Sullivan's new book, The Water Wolf. A sneak peek at the first chapter is available on Sully's web site. And, here's the cover: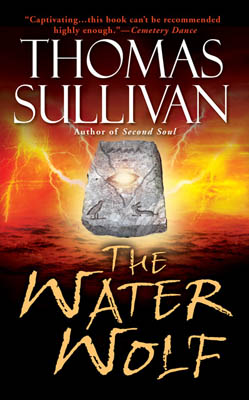 In Bookstores: You've waited this long to buy Artifact, the thrilling novel of adventure and suspense which Janet coauthored with her best-selling friends Kevin J. Anderson, Matthew J. Costello, and F. Paul Wilson. Well it's time to stop waiting. Order the paperback now from Amazon.com, BarnesandNoble.com, or your favorite independent bookseller. Then pick some up for the action-adventure fans on your holiday gift list. Readers have compared the book to the best of Clive Cussler. The man himself said that Artifact has "enough spellbinding intrigue to last until the authors' next tale." To learn more about the origins of the book, read the Backstory on M.J. Rose's Backstory blog. While you're there, don't forget to check out M.J.'s latest, The Halo Effect.
The Madagascar Manifesto from Meisha Merlin Publishing brings all three books, Child of the Light, Child of the Journey, and Children of the Dusk, together in a single volume. All of the hardcover's are gone, but the trade paperback (ISBN 189206558-4) is still available. This beautiful book will be a great addition to every reader's shelves.
Also, check out Rite of the Dragon, Janet's first novel exploring the fictional attempt to overthrow South Africa's Apartheid government. It's available at an e-tailer or bookstore near you. Rite has been out of print for 18 years, and thanks to a squad of highly-trained subterranean termites sent by the Broederbund (the South African right wing party, not the game company), even Janet had only a handful of copies. Now, Wildside Press has brought the book back in a special 20th Anniversary edition. Don't wait. You never know when those termites might strike again.
Further Reading: A preview of Janet's work on her sequel to Rite can be found in Imaginings: An Anthology of Long Short Fiction, editor Keith R. A. DeCandido's anthology of novellas. Other authors in the book include Harry Turtledove, Craig Shaw Gardner, and Adam-Troy Castro.
Also, watch for a forthcoming anthology from DAW Books edited by Denise Little called Frontlines. In it you'll find the third story Janet extrapolated from an in process novel by her friend, the late and legendary Jack Kirby. This story, "The Eye of the Falcon," was scheduled for publication twice previously, but both anthologies ended up vanishing in the mists of publishing.
For an almost complete list of Janet's short fiction, past, present, and soon to come, click here.
Looking Elsewhere: Live on the Deep Blue Web Journal, David Niall Wilson's interview with Janet Berliner. Check it out!
Janet and a group of 29 other writers, readers, and editors have joined together for a blog on all sorts of subjects of interest to readers of dark fiction. The Storytellers Unplugged blog has a new post each day of the month. Janet's posts will be going up on the 26th each month.
Do you want to learn more about:
Find information about Janet's novels, anthologies, and short stories, not to mention books like The Unicorn Sonata, for which she created the story along with her dear friend Peter Beagle.
Learn about Janet's exciting background. In the near future, you'll find photos of Janet with many of her friends and colleagues, as well as links to some of her favorite places on the web.
You are Visitor number

If you want to receive timely information about events, publications, and appearances by Janet Berliner, send an email with the subject "Subscribe BerlinerPhiles."
Please excuse the dust on the site. I'm in process of reworking it to be cleaner and easier to navigate. Certain funtionality is currently disabled. If the site appears muddy, or for any reason difficult to read on your platform, please let me know. Thanks.